Eyelash line enhancement. An ultra-thin eyelash line enchancement for an elegant and natural look.
Eyelash line enhancement is the base of every make up and suits every type of eyes...
It dresses and marks the base of the eyelashes by a ultra-thin black line. The micropigmentation of the eyelash line enhancement (semi-permanent make up of the eyelashes) will redensify the eyelashes, dress the eye, give depth to the gaze and enhance the colour of the eyes namely light eyes.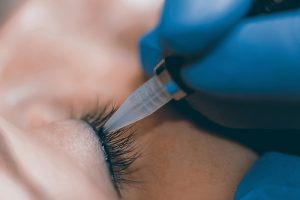 Naturacil highlights the eyelash line enhancement. This line drawn at the base of the eyelashes allows to redefine the eye. In semi-permanent make-up the dermopigmentation consists in inserting black pigment (or brown) with an electrical dermograph at the edge of eyelash fringe. So we draw an extremely thin, precise and defined line.
Eyelash line enhancement begins in the interior corner of the eye towards the exterior corner, goes out slightly upward to enhance the form of the eye. It blackens uniformly and in an extremely natural way all the growth area of the upper eyelashes.
Naturacil recommandes only the eyelash line enhancment of the upper eyelashes, because they enlargen the gaze. The ciliar area, previously anaesthetized to avoid any pain, will be densified and will sublimate the eye in a lasting way.
The result is stunning, the eyelashes seem to be more dense and the look is transformed, intense and glamour.
Very natural, the eyelash line enhqncement gives intensity and sensuality and becomes an undeniable charm asset. This method is ideal for those who have few eyelashes, who practice a sport, who would like to save time without having to wear make-up or for those who have allergies to certain cosmetic products. The treatment lasts about 1 hour. After the session the eyelids are often swollen during 3 to 7 days. A touchp-up is to be foreseen one month after the first session. The maintenance is done once a year.
Our prices
| | |
| --- | --- |
| Eyelash line enhancement | 100 € |